Join our Youth Advisory Group!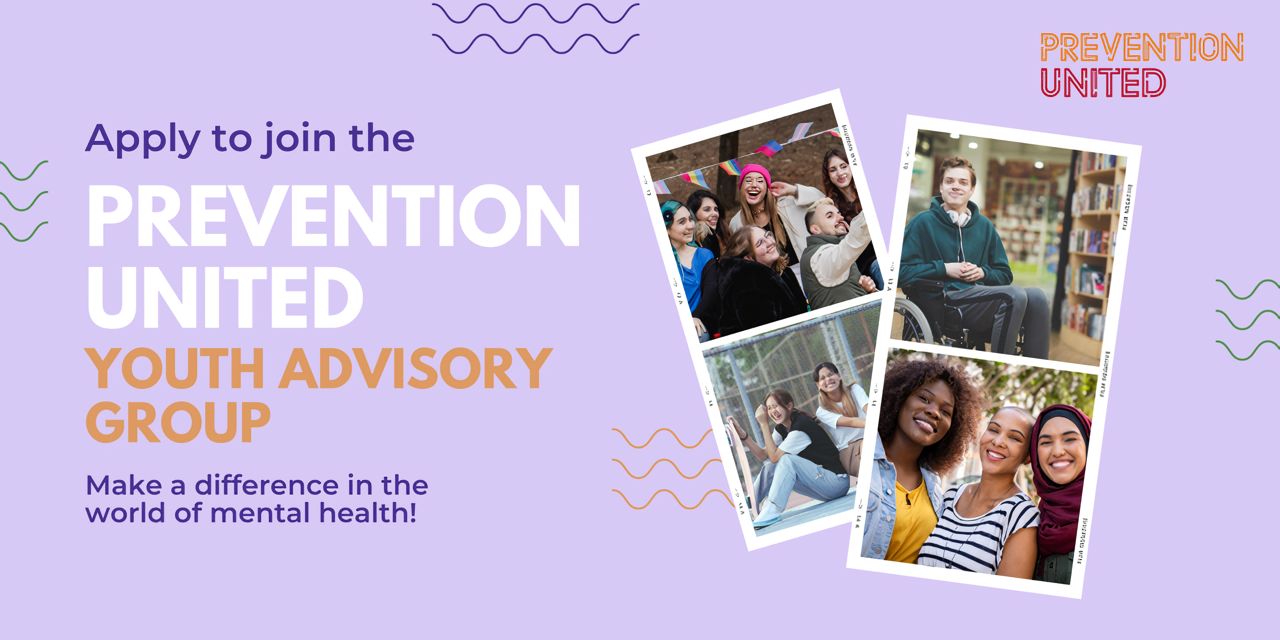 Prevention United is one of Australia's leading mental health promotion not-for-profits.
We're concerned about the dramatic increase in depression and anxiety conditions among young people and that's why we're focused on answering two key questions:
What are the key causes behind this increase in youth mental health conditions?
What can we do to address these causes?
Because we're focused on prevention, we're looking at what can be done 'upstream' to support young people's mental wellbeing and tackle the underlying root causes of mental health difficulties. We recognize we can't just keep waiting for young people to experience serious mental health challenges before we step in to help.
We'll use the information we gather in response to these two questions to inform our advocacy activities and press governments to increase their investment in youth mental health promotion initiatives.
That's why we need your help! We can't make recommendations about supporting young people's mental health without having young people actively involved. Members of the Youth Advisory Group will help us answer these two questions, and help shape our message to government.
Youth Advisory Group meetings
The Youth Advisory Group will meet once per month from July 2023 to December 2024. A typical meeting will involve:
Warm up activities and getting to know you.
Our main meeting business, which could include things like:

Asking your perspective on a specific topic e.g., the impact of social media.
Working together to design a project e.g., a community survey of other young people.
Leading an advocacy activity e.g., developing and recording a podcast; planning a social media campaign etc.

A training session to learn skills such as advocacy, leadership, career skills etc.
A break with dinner provided.
To begin, we'll be asking you for your opinions and perspectives on what the research evidence says about these questions, and provide feedback on what we think governments need to know. Over time, as a team you'll take the reins and design your own advocacy work, alongside the work of our research and policy team.
Each meeting, you'll be provided with a training session to help you build your skills as a young advocate. We'll provide some introductory topics to get you started, and later in the program, we'll ask the group to decide on the topics you want to be trained in.
Please note that this group is focused on advocacy and mental health promotion – we won't be learning about psychology or mental health treatment.
Meet Matilda, your Youth Engagement Officer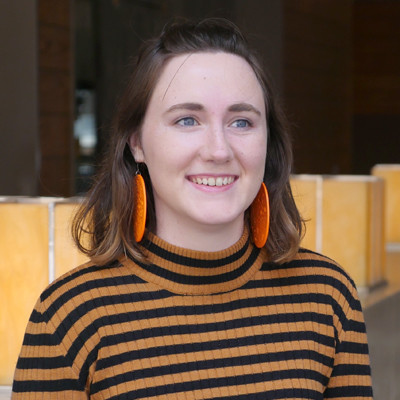 Hi! I'm Matilda, the Youth Engagement Officer here at Prevention United, and I'll be running our Youth Advisory Group. I'm so excited to meet you!
I'll be the main point of contact for everyone involved in the Youth Advisory Group. If you have questions about the program, how to apply, or Prevention United's work in general, feel free to email me at youth@preventionunited.org.au.
Who am I? I've been working at Prevention United since 2021, and I'm a passionate advocate for preventative approaches to mental health. I'm a trained counsellor, specialising in LGBTQIA+ mental health, and from this work I know that so many people's mental health struggles come from things that should be preventable – financial difficulties, abuse, trauma, discrimination and so on. I'm also super passionate about working with young people, because it's clear that most mental health conditions emerge before the age of 25 – so if we can help people early on, it can make a huge difference to the rest of their life. I'm also trained in first aid, mental health first aid, and suicide intervention, so I'm here to make sure that your time in our Youth Advisory Group is a safe one.
Who is eligible to join the group?
Any young person aged 16 – 21 is eligible to join the group. We'll be selecting between 8 – 12 young people to participate. While we will be discussing young people's experience of mental health, you do not need to have lived or living experience of mental health difficulties to apply – we're interested in hearing from all young people about these topics.
We're looking for a diverse range of members, so young people with a lived/living experience of a mental health condition; LGBTQIA+ young people; Aboriginal and Torres Strait Islander young people; young people with a disability; neurodivergent young people; young people of colour and from culturally and linguistically diverse communities; and young people with experience living in regional or rural Australia are all strongly encouraged to apply.
What is required of me? What am I committing to?
To participate in the group, you'll need to:
Come to a 3-hour meeting, once per month on a weekday evening, in person in Carlton, Melbourne. The first four meeting dates are:

Thursday July 27, 5:30pm – 8:30pm
Thursday August 24, 5:30pm – 8:30pm
Thursday September 21, 5:30pm – 8:30pm
Thursday October 19, 5:30pm – 8:30pm
Meeting dates for the rest of 2023, and for 2024, are to be confirmed.

Be able to commit to the entire term of the group from July 2023 – December 2024.
Depending on our projects, some members might choose to contribute additional hours outside of these meetings – but this will always be voluntary, and you do not have to commit to more than 3 hours per month for the meetings.
What will I get out of participating? What's in it for me?
The benefits of participating are:
A $50 Prezzee voucher for every meeting you attend.
Free dinner!
A training session at every meeting to help you build a career in the not for profit and/or advocacy sector.
The chance to help shape our work and advocate to governments about what you think the future of mental health for young people should look like.
What do I need to do to apply?
To apply, please complete our Youth Advisory Group Application Form. The application will ask you to provide the following:
Personal contact information so we can get in touch with you.
Your answers to these questions:

Tell us a little bit about yourself. This could include what you do for study or work, what you hope to do in the future, any hobbies you have, or any involvement in activities, community groups, volunteering etc.
Tell us why you are interested in joining the Youth Advisory Group. This could include why you are passionate about mental health (and specifically prevention), what you hope to get out of the group, or skills you hope to improve.
Tell us a) why you think it's important to focus on promoting mental wellbeing and preventing mental health conditions, and b) one idea you have that could help prevent young people from developing mental health conditions. This could be a policy that should be changed, a program that could be created or expanded, or any other ideas you have.
For each of these questions, you can provide the answers in either written, video, or audio format, depending on your preference.

Information about your identity, so that we can make sure the group members represent a diverse range of young people.
Timeline for application
June 1 – Applications open
June 25 – Applications close
July 5-13 – Interviews of shortlisted applicants
July 14 – Applicants notified of outcome
July 27 – First meeting
Youth Advisory Group – FAQ