Prevention United in the news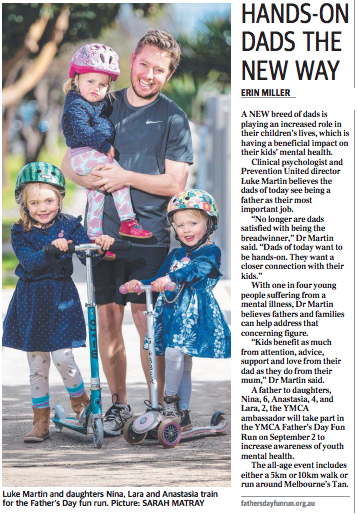 25 August, 2018
Prevention United director, our very own Dr Luke Martin, graces the pages of today's Herald Sun today to bring attention to the importance of dads being "hands on" in raising children's mental wellbeing and resilience.
Always one to practise what he preaches, he will be taking part in this year's Fathers' Day Fun Run on September 2nd as an official ambassador for YMCA Victoria.
Luke also wrote a blog piece for the YMCA about the benefits of being a hands-on dad – both for the kids and for the dad themselves. People are becoming more and more interested in the concept of their own and their children's mental wellbeing.
In the modern world, it doesn't matter whether you're a dad, a mum, a step-dad or a step-mum, a grandparent, an aunt or an uncle, or any other role-model for kids as they grow up. The message is the same for everyone.
"Positive and warm interactions between a dad and their child help them feel safe, wanted, important and loved – all key ingredients for good mental wellbeing." – Dr Luke Martin – Director @ Prevention United.