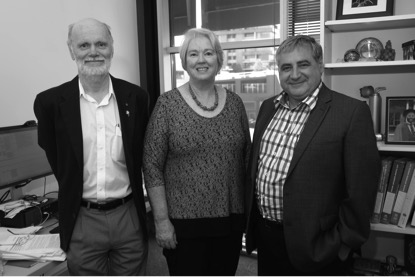 Image: Tony Jorm (left) with his wife, Betty Kitchener AM, and Prevention United Chair, Stephen Carbone


19 November, 2018 by Professor Tony Jorm, University of Melbourne


Prevention in Australia

Looking at changes in Australia's health since the beginning of the 20th century to the present, we see major gains. There has been a steady reduction in mortality and increasing life expectancy. According to the Australian Institute of Health and Welfare, the improvements that occurred in the first half of the 20th century were due to "control of infectious disease and better hygiene and nutrition", while the more recent changes were due to "improvements in road safety measures, falls in smoking rates, and improvements in prevention, detection and treatment of disease such as cardiovascular disease and other chronic diseases" (https://www.aihw.gov.au/reports/life-expectancy-death/deaths-in-australia/contents/trends-in-deaths). What is striking about these trends, is that prevention played a major role alongside of treatment.

Mental health conditions are the next frontier for prevention

In the current century, we are likely to see continuing gains in mortality from prevention and treatment of physical diseases. However, since the 1990s it has been recognized that a nation's health is not only a matter of improving mortality. Many health problems limit a person's ability to achieve basic life goals, rather than causing earlier death. The emphasis now is on reducing disability in the population as well as mortality.

When we look at what are the main causes of disability in Australia, mental health conditions play a major role. According to the Australian Institute of Health and Welfare, they are the biggest source of disability in the population (Australian Institute of Health and Welfare. Australian Burden of Disease Study: Impact and Causes of Illness and Death in Australia 2011. Canberra: AIHW, 2016). The reason that mental health conditions have such an impact is that they often start early in life, in contrast to chronic physical diseases, like heart disease and cancer, which mainly affect older people. Because they often start early in life, mental health conditions can disrupt a person's education, employment, key relationships and health habits (like smoking, exercise and diet). These disruptions can then cause adverse consequences across the lifespan and lead to increased risk for recurrence of mental health conditions.

Australia is not doing enough on prevention

Given that prevention has been a major contributor to the reduction in mortality in Australia, we might expect that it would also be playing an important role in reducing the impact of mental health conditions. However, it is striking that prevention of mental health conditions has been largely neglected in Australia. Our mental health system resources are almost entirely taken up with treatment services, with little commitment to prevention or promotion. This imbalance was highlighted by the National Mental Health Commission in its 2014 report to the government Contributing Lives, Thriving Communities –The National Review of Mental Health Programmes and Services (http://www.mentalhealthcommission.gov.au/media/119896/Summary%20%20-%20Review%20of%20Mental%20Health%20Programmes%20and%20Services.PDF). The Commission concluded that resources are concentrated in expensive acute care services, and not enough resources are invested in upstream prevention and early intervention.

Treatment services alone have not improved Australia's mental health

Australia spends around $9 billion per year on mental-health-related services and this expenditure is steadily rising in real terms (https://www.aihw.gov.au/reports/mental-health-services/mental-health-services-in-australia/report-contents/summary). There have also been large increases over recent decades in use of treatments, including medications and psychological treatments. However, despite these increases, we have not seen any improvement in the mental health of the Australian population (Jorm AF. Why hasn't the mental health of Australians improved? The need for a national prevention strategy. Aust N Z J Psychiatry 2014; 48: 795-801). Treatment alone does not seem to the sufficient. We need a better balance of efforts between prevention and treatment, as has been successful in reducing mortality from physical diseases.

Action is occurring on suicide prevention

There one notable exception to the dismal neglect of prevention. This is the area of suicide. A National Suicide Prevention Strategy was introduced in Australia in 1999 and this was followed by a steady reduction in the suicide rate over some years. However, more recently the suicide rate has started to increase again. Fortunately, there has recently been a renewed national commitment to suicide prevention in the Fifth National Mental Health and Suicide Prevention Plan which was endorsed by the Council of Australian Governments Health Council in 2017 (http://www.health.gov.au/internet/main/publishing.nsf/content/mental-fifth-national-mental-health-plan). A particularly exciting development is the National Suicide Prevention Trial which is testing a multi-pronged approach to reducing suicide in 12 areas with higher suicide rates than average (https://www.racgp.org.au/newsGP/Professional/Pioneering-suicide-prevention-trial-extended).

We need a national commitment to prevention of mental health conditions

The national commitment to prevention of suicide needs to be extended to the prevention of mental health conditions in general. Most people who are suicidal have a serious mental health condition. We should not wait until there is a suicidal crisis to intervene, when more upstream prevention is possible. It is a major omission of the Fifth National Mental Health and Suicide Prevention Plan that it did not extend its prevention goals beyond the prevention of suicide.

There is now plenty of evidence that prevention of mental health conditions is possible. Meta-analyses of randomized controlled trials have found that it is possible to prevent depression and anxiety problems (Van Zoonen, K, et al. Preventing the onset of major depressive disorder: a meta-analytic review of psychological interventions. Int J Epidemiol 2014; 43: 318-29; Stockings EA, et al. Preventing depression and anxiety in young people: a review of the joint efficacy of universal, selective and indicated prevention. Psychol Med 2016; 46, 11-26). Prevention can be implemented in many settings: families, schools, tertiary education institutions, workplaces, aged care and the internet. Economic evaluations of cost-effectiveness have found that these preventive interventions are good value for money and can yield an economic payoff that is several times the cost of the intervention (Mihalopoulos, C, Chatterton ML. Economic evaluations of interventions designed to prevent mental disorders: a systematic review. Early Interv Psychiatry 2015; 9: 85-92; Knapp M, et al. Mental Health Promotion and Prevention: The Economic Case. London: Department of Health).

There are no technical barriers to Australia taking on prevention of mental health conditions as a national goal. We have the expertise and the tools to do it. It is all a matter of political will.