Mental health promotion forum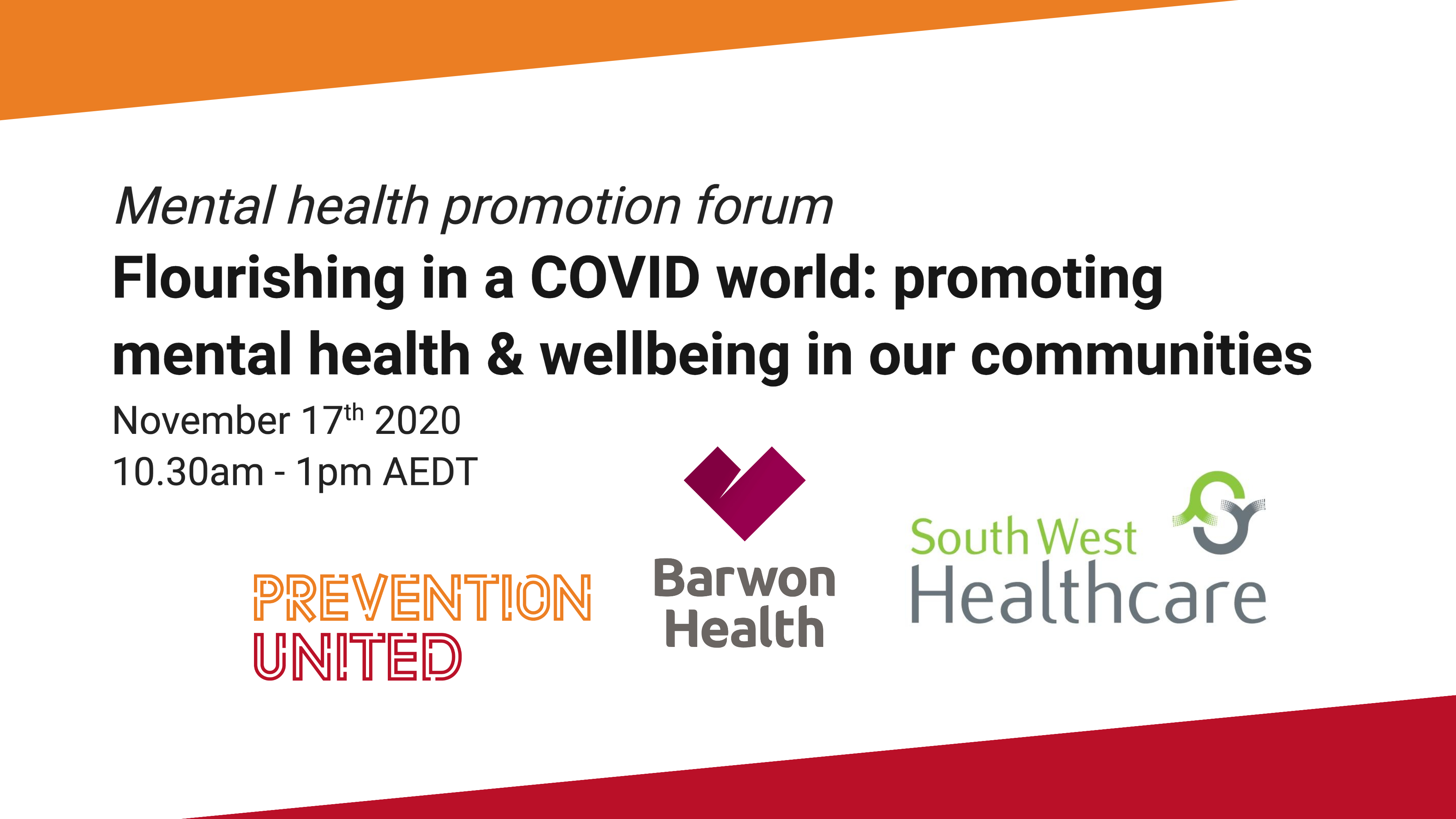 Flourishing in a COVID world: promoting mental health & wellbeing in our communities
2020 was a challenging year for all of us. While Victorians showed remarkable resilience, our communities were still dealing with the social and economic fallout from COVID-19, and stress levels remained high among certain groups and communities. That's where effective mental health promotion can make a difference.
This online Forum was designed for people who work with community. It would be of interest to both implementers and decision makers. Our speakers showcased evidence-based strategies to help you promote mental wellbeing and prevent a rise in mental health conditions in your communities. The forum included keynote presentations, panel discussions, and interactive Q & A sessions with online attendees.
Watch a recording of the session
Tuesday 17 November 2020, 10.30am – 1pm AEDT
Download the slides
Keynote – Stephen Carbone
Showcase #1 – Veronica Nunez
Showcase #2 – Louise McDonald
Showcase #3 – Marie Yap
Speakers and presenters:
Stephen Carbone, Prevention United
Associate Professor Marie Yap, Monash University – Partners In Parenting program
Professor John Toumbourou and Louise McDonald – Communities that Care
Veronica Nunez, Healthy Workplaces Program Officer, Achievement Program
Panel discussion
Speakers with expertise in mental health promotion and:
Equity
Early childhood services and Schools
Workplaces
Social connection
Climate change
Please note, this webinar was NOT an individual or group telehealth counselling service. If you need mental health support you should contact your GP, go to headtohealth.gov.au or contact Beyond Blue 1300 22 4636.
---