'Flattening the curve of mental ill-health' webinar series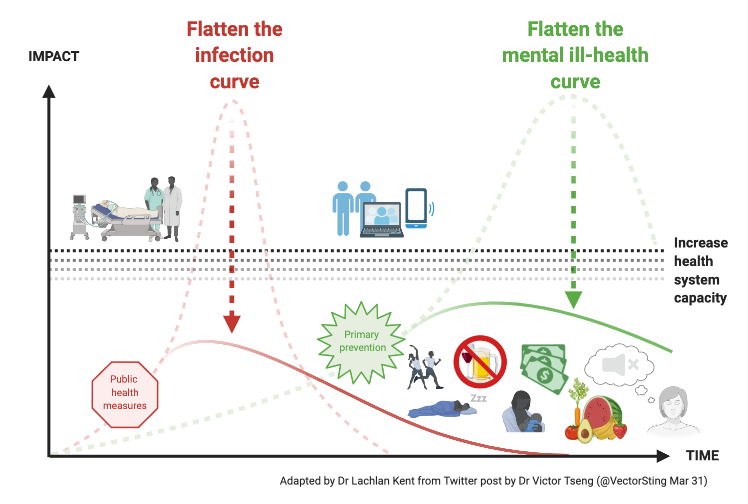 Prevention United is hosting a series of online discussions on how Australia can 'flatten the curve' of mental ill-health in the wake of COVID19.
These sessions provide a range of expert views on the mental health and wellbeing impacts of coronavirus and discuss important ways that these impacts can be reduced through evidence-based promotion and prevention programs in the months and years ahead.
You will be able to post questions to our presenters.
Register for upcoming webinars
STAY TUNED – More dates and sessions to follow shortly.
---
Please note:
Places for each webinar are limited and will be allocated in order of registration.
---
View recent webinars
Professor Hiscock, Professor Scott, Professor Toumbourou  
Hosted by Dr Stephen Carbone, Prevention United Executive Director
The COVID-19 pandemic is having major impacts on the lives of children, young people and their parents. Children and young people have been less able to interact with friends and their learning has changed, while parents have been dealing with unemployment or juggling work and home schooling. This webinar will explore how we can support children, young people and parents during this difficult time and reduce the risk of mental health conditions among these groups.
---
click to register
with
Professor John Toumbourou, Chair in Health Psychology and the Leader in Translation Sciences within the Centre for Social and Early Emotional Development, Deakin University
and
Dr Stephen Carbone, Executive Director of Prevention United

Download slides – Professor John Toumbourou, Dr Stephen Carbone
Hosted by Dr Lachlan Kent, Prevention United Development Manager
The COVID-19 pandemic is causing significant social and economic upheaval. Community strengthening programs have shown benefits in preventing substance misuse and may hold benefits for mental wellbeing. Social & economic policies that soften the impacts from COVID-19 are crucial for prevention. This webinar will explore place-based solutions, and public policies that may help flatten the curve of mental ill-health
---
Preliminary data, clinical and lived experience insights suggest that Australia is beginning to see higher levels of reported anxiety and psychological distress in the general population. Now, more than ever, we need a mental health system that puts people first, providing services and supports in a way that best matches a person's unique life circumstances. This webinar will examine the low intensity gap in the stepped care model and how we can fix it, showcasing NewAccess – a safe, accessible and outcomes-rich early intervention model that's ripe for the times.